3-phase transformers and inductors
Warning
: Creating default object from empty value in
/home/wic/public_html/templates/transelectro/html/com_content/category/default_articles.php
on line
15

3-phase transformers and inductors
Dry type 3-phase transformers and inductors in sizes up to 630 KVA .
Windings in round or rectangular enamelled copper or aluminium wires
or in foil from copper or aluminium.
Some types are available UL marked to UL5085 from 110VA up to 50 kVA.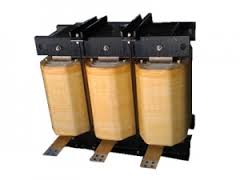 Typical accessories are offered:
UL class B insulation system for 130°C
UL class F insulation system for 155°C
UL class H insulation system for 180°C
Built-in fuse or fuse holder
Built-in thermal protection by thermal switch or thermal fuse
Clips
Connectors
Cable / cable with connector
Varnishing
Vacuum impregnation
Vertical / tall or horizontal / low profile design
All transformers are made according to EN61558 - unless otherwise agreed.
All transformers are tested before despatch.